Three Good Things:

1.POM Pomegranate Black Tea
Ever since I bought a bottle of Odwalla pomegranate juice on a whim a while back I've been on this Pomegranate hype. I've heard good things about POM Pomegranate Tea so I decided to try it. Its crazy delicious, and although I bought the black tea it was light and had a refreshing pomegranate flavor.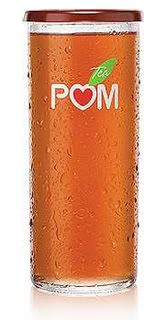 Cost:
It'll run you back about $4, not an everyday item it's a good indulgence. It also comes in a nice glass container which can be used again as a pencil holder or as a vase for when you switch it up and buy the tenderoni you trying to get wit flowers. So, next time instead of going with that hot grande soy toffee nut white mocha from Starbucks, opt for POM tea, its fat free, packed with antioxidants, and wont giver you the shits.
2.L'Oreal Vive Pro Nutri Gloss Shampoo
Smells hella good, Works hella good. Lives up to its name, it leaves yo hurrr very glossy glossy
Cost:
under $5 @ your local target or grocery store
3.Dime Piece Lipstick Diaries Mixtape
26 tracks of (mostly) heat all mixed by female DJs and by female artists. It features everything from Vanity 6 to Kid Sister, who gives a shot out on one of the tracks. So ch-ch-ch-check it out.
Cost:
$Free-ninety nine at Dime Piece's website:
http://www.dimepiecedesigns.com/
One All Bad Thing:
1. The fact that my janky lil'
Shark sewing machine
that I bought at Target for $10 on Black Friday doesn't work right because something is wrong with the tension between the top stitch and the bottom stitch.
Blog Slap:
Brenda Russell-A little Bit of Love